IDRIJA TOURISM BOARD
Idrija Tourism Board manages the development, promotion and marketing of tourist offer in Idrija region. Their tasks include the management and coordination of the UNESCO Global Geopark Idrija activities, and the collective trademark Idrija Selected. With local service providers and other organisations, we strive to develop attractive and quality products and services that are telling the stories of our land.
Honey products combine the long-standing tradition of mining, lacemaking and beekeeping in Idrija. They are the results of the Med-o-vita project and are popular souvenirs from Idrija.
Idrija town started developing after the discovery of mercury in 1490. The Idrija mercury ore deposit originated 238 million years ago when hot solutions (160–210 ˚C) bubbled from the depths to the surface and brought mercury along with it. On their way to the surface, they converted older rocks into ore. Cinnabar ores originated at the same time as the rocks in the ore generation period. The cinnabar mineral is one of the forms of mercury, the second being elementary mercury. Both forms can be found in the Idrija mercury ore deposit. Idrija Mercury mine operated for 500 years and was considered the second largest mercury mine in the world.
The origin of Idrija lace most likely goes more than 300 years back. It is presumed that the knowledge of lacemaking was either brought from the German or the Czech provinces, from where many miner workers with their families came to work in the Idrija mine.
Beekeeping was a relaxation for the miners after a long and hard working day, but also an important activity for farmers on a farm.
Slovenian and also beekeepers from Idrija region were and still are breeding a special kind of autochthonous bee – Carniolan honey bee. There is no Carniolan honey bee without a beekeeper, no pollinating without a bee, no plants, no animal species and no man.
Honey for Vita
Multi-floral honey by three local beekeepers in pots featuring stories from Idrija heritage: lace, mercury mine, and townspeople apiary.
IDRIJA LACE
Idrija is known worldwide for its Idrija lace – a hand-made masterpiece that combines a lot of knowledge and beauty. A typical feature is a lace band – broad tape lace made by intertwining threads which forms a motif. The lacemaking in Idrija started over 300 years ago. In the past, lacemaking was an additional source of income for the miners' families and nowadays it is a rich source of artistic creativity. Its universal value was recognised when Idrija Lace was inscribed on the UNESCO Representative List of Intangible Cultural Heritage of Humanity with the joint nomination "Bobbin Lacemaking in Slovenia". The lacemaking knowledge is preserved with the help of the Idrija Lace School. Each year, the main annual tourist event in Idrija – the Idrija Lace Festival – is dedicated to the presentation and promotion of lace.
IDRIJA MERCURY MINE
Ever since in 1490 the tub maker soaking his tub in a creek found droplets of unusually heavy and unfamiliar shining matter, life in Idrija revolved around one thing only: mercury. The oldest Slovenian mining town that had supplied the entire world with this valuable liquid metal offers remnants of the rich mercury heritage at every step. The rich legacy of the mercury mine is, due to its uniqueness, listed on the UNESCO World Heritage List.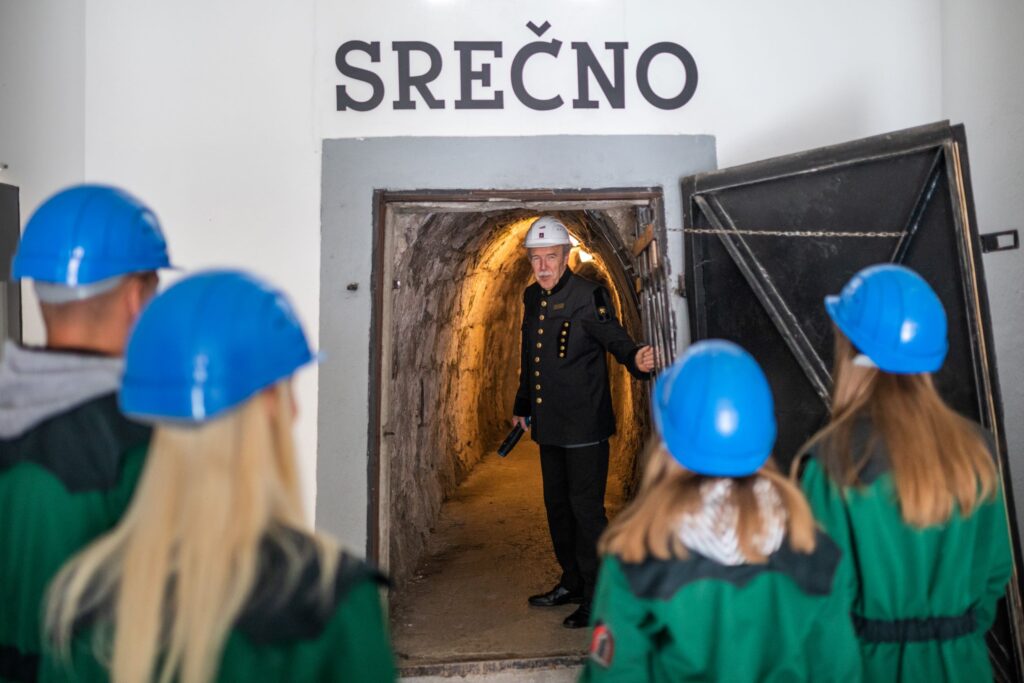 IDRIJA TOWNSPEOPLE APIARY 
Was built in 1925 at the request of Pavel Lapajne well-known Idrija lace tradesman. It is an exceptional example of highly crafted, skilfully executed and painted townspeople apiary. In the surroundings, plants, which offer a lot of honey, are plant. The apiary was renovated in 2013 and the beekeepers populated the beehives with Carniolan honey bee and began with different activities to help revive of apiary.
Lace and Honey
Sugar lace based on Idrija lace pattern, coated with local honey.
And who are the beekeepers that produce honey for our products?
For the above-mentioned products, we only use flower, forest and linden honey from local beekeepers with the quality certificate Idrija Selected.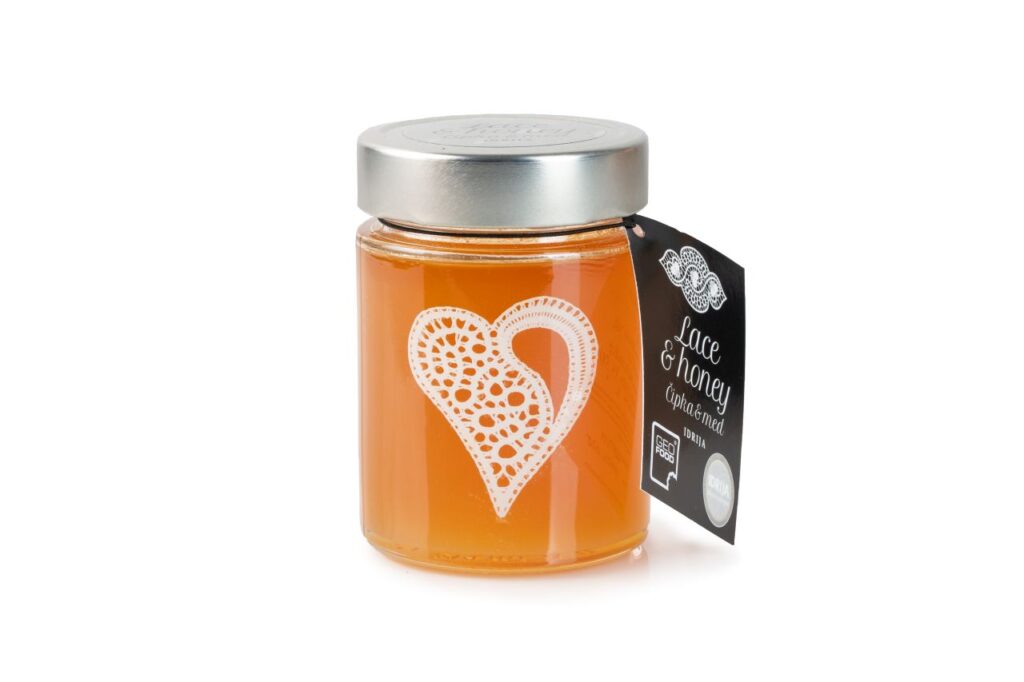 ---
Idrija UNESCO Global Geopark beekepers
Who are the beekeepers that produce honey for our products?
For the above-mentioned products, we only use flower, forest and linden honey from local beekeepers with the quality certificate Idrija Selected.
Beekeeper Zvonko Mohorič
Raising 30 bee colonies at the Ledine Plateau, Zvonko Mohorič hails from the latest of several generations of family beekeepers. His honey has been awarded numerous national and international recognitions. Zvonko also engages in transferring the beekeeping skills onto the younger generations as he is mentoring young beekeepers at the Idrija Primary School.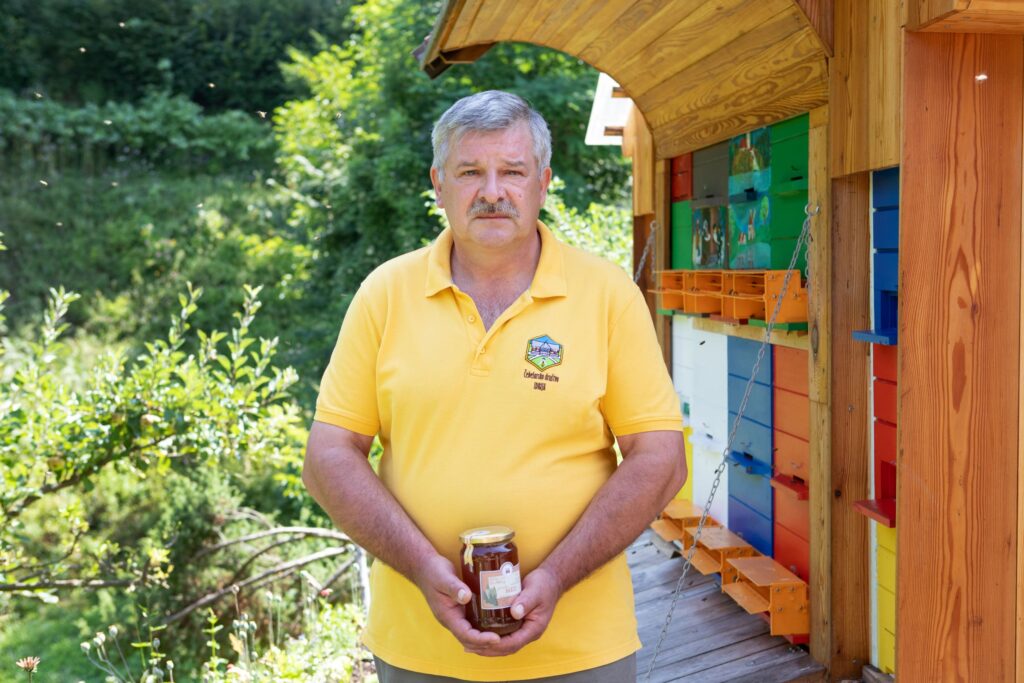 Beekeeping Silvij and Blanka Vidmar
Silvij and Blanka claim that bees simply win your heart. If they started their beekeeping business due to circumstance, they cannot imagine a life without bees anymore. They are raising 28 bee colonies that collect various honeys: flower, acacia, chestnut, linden, and forest. Silvij and Blanka received multiple recognitions for their honey and are active in the Idrija Beekeeping Association.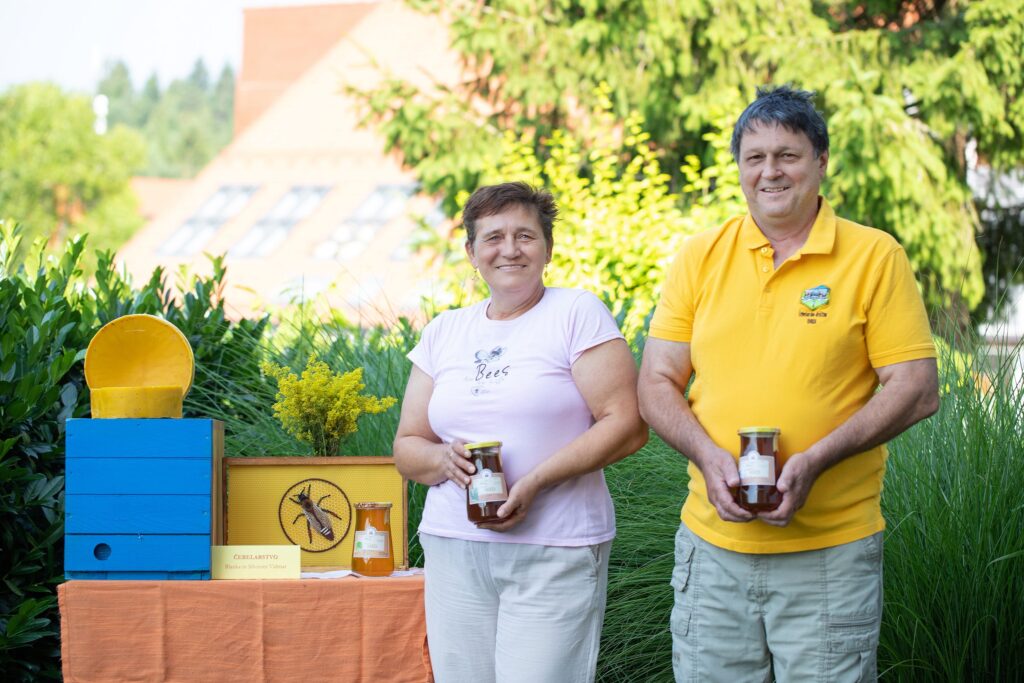 Beekeeper Darko Ipavec
Darko Ipavec dived in the world of beekeeping in 2005 when he bought his first bee colony after studying bees and beekeeping for a year. Today, he is a happy beekeeper with bees collecting flower, forest, and fir honey in the Upper Idrijca Landscape Park. Darko is also a proud owner of the Medvedu prijazno (Bear-friendly) certificate.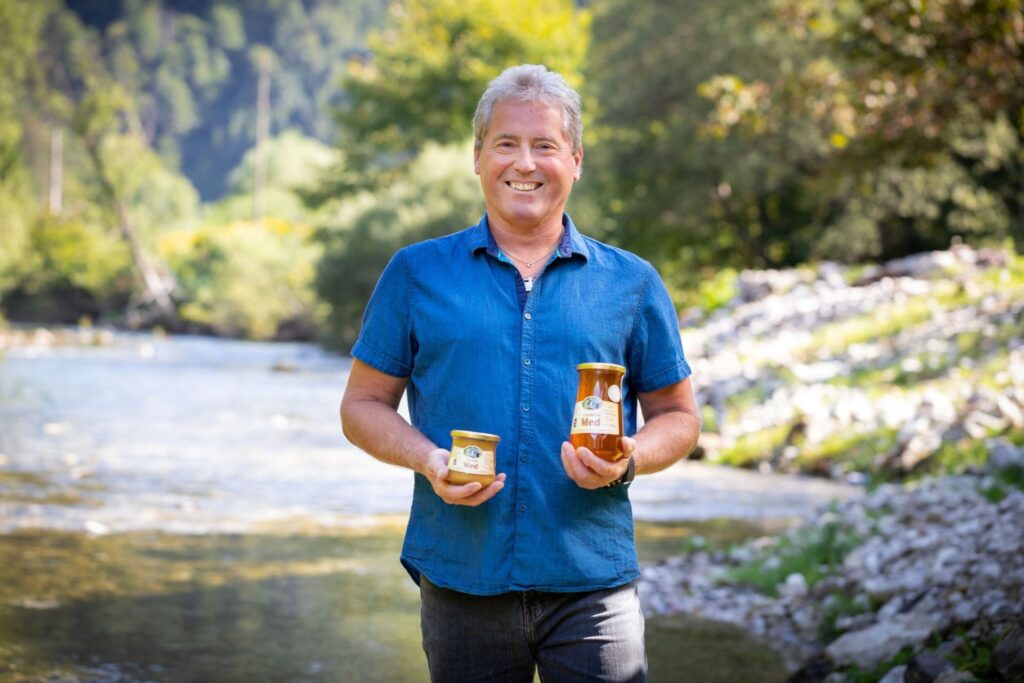 Beekeeper Martin Kolenc
Martin Kolenc says that bees are his great love and provide a much-needed relaxation after a hard day at work. While taking care of his own bees, he is also active in developing beekeeping, not least at the Idrija Beekeeping Association the president of which he has been for the past five years.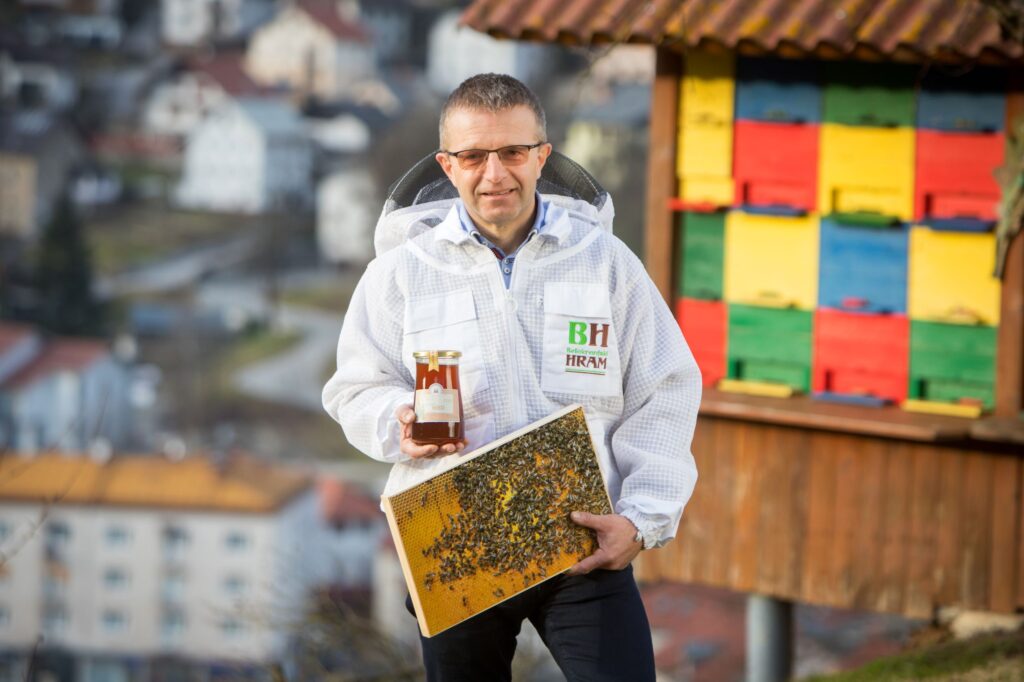 Beekeeper Bojan Troha
For more than a decade, Bojan Troha has been engaged in the production and sale of quality home-made honey. At the Trepališe farm in Spodnja Kanomlja, he also grows vegetables. He has an orchard and a plantation of berries. His honey and other crops can be bought at the farm and at local fairs.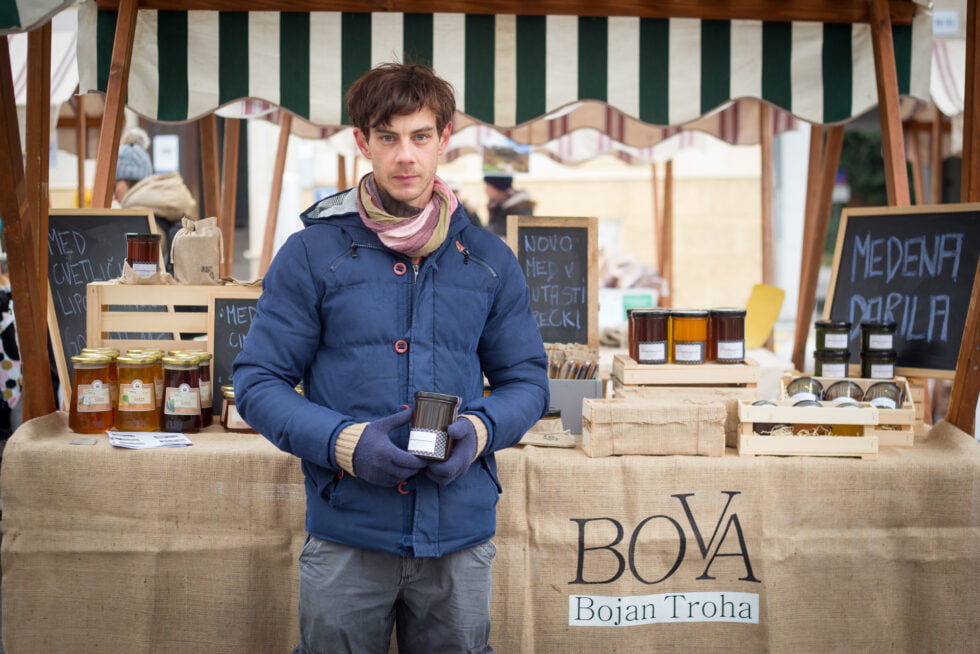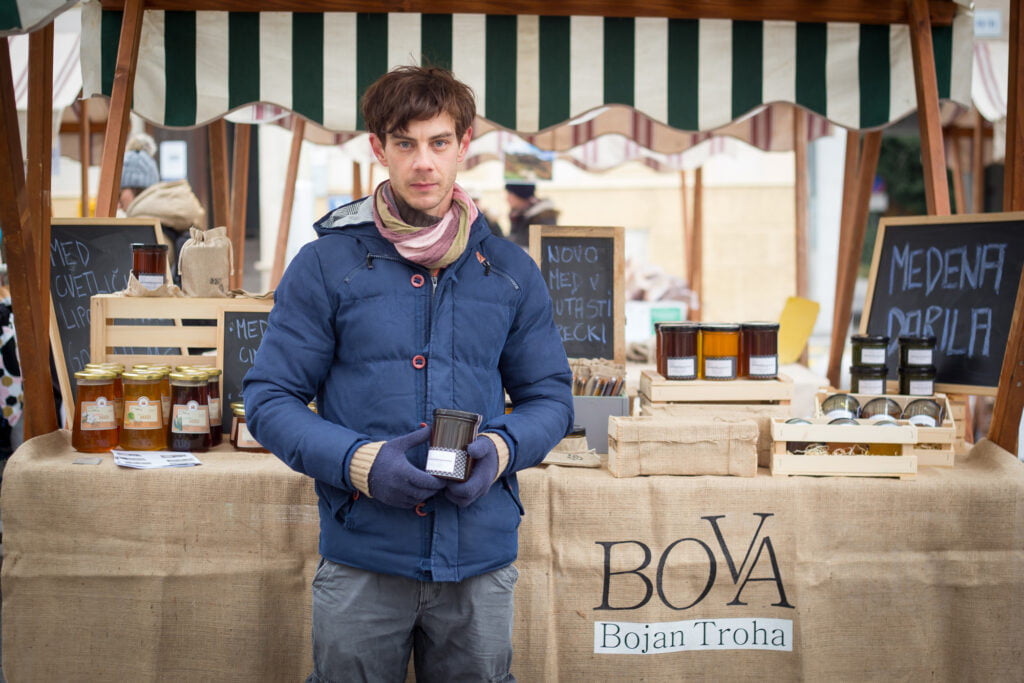 Beekeeping Rupnik
Ciril and Sandra Rupnik started their beekeeping story in 2000. Today, there have about 40 bee families. The couple produces Slovenian honey with a geographical indication, and other bee products. They are recipients of numerous awards for their honey and their work and are actively involved in the development of beekeeping in the wider Idrija area.