Caldeiras & Vulcões – GEOfood restaurant from Azores UNESCO Global Geopark (Portugal)
Located in Furnas Village, the heart of Furnas Volcano Caldera, a Geosite of International Relevance of the Azores UNESCO Global Geopark, the "Caldeiras & Vulcões" restaurant, opened on July 14th of 2011 and is, since day one, a partner of the Azores Geopark.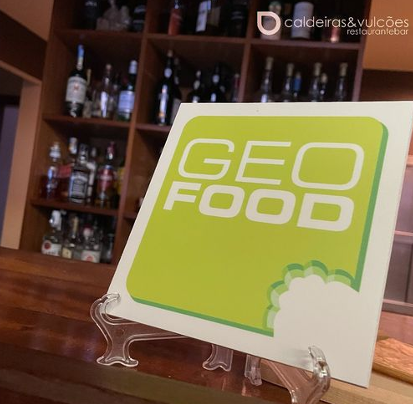 As partners and supporters of the local economy, preference always is given to local producers and suppliers. The agricultural products used, are provided by  small local producers, whose products' quality and consistency meets Chef Paulo Mendonça Costa quality standards. Meat and fish have to undergo the same process and it is the Chef himself who personally takes care of the meat and fish preparation. All fish fillets that arrive at our customers table were carefully cut and prepared by the hands of the head Chef.
Cheese, bread and wine selections have to meet Vitor Mendonça Costa high standards, as head host at "Caldeiras & Vulcões". In the menu there are always a modest selection of fresh as well as cured local cheeses, to be paired with some regional wines (Pico, Graciosa, Terceira and São Miguel). São Miguel island natural mineral waters are a constant presence and the wine list is enriched with the presence of wines from renowned Portuguese wineries.
In this restaurant visitors can also taste Geothermal Food, the traditional way of using geological resources by Furnas inhabitants, taking advantage of the heat coming from the Furnas Volcano, were all ingredients are placed in a pot, which is placed and buried in the soil and its cooking time is an average of five hours. This has a unique and unforgettable taste.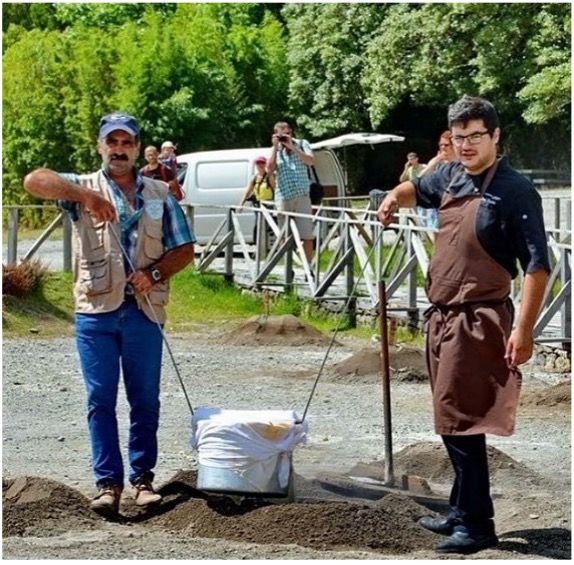 Furnas stratovolcano, visible from the restaurant windows, is intended to be only the beginning of guest's experience. The menu is organized in order to challenge the guests by associating some geo-memories of places they visited during their stay within the region to flavors and textures of the dishes. The opened space of the restaurant, enhanced with geothermal features, pictures and warm colors add to the cozy atmosphere intended to take the guests to a naturally and definitely unhurried food affair journey.