IDRIJA GEOfood breakfast – Select local food products of Idrija
In Idrija UNESCO Global Geopark we designed a new product called IDRIJA BREAKFAST consisting of delicacies created by nature and the people of Idrija. Delicious dairy and meat products, honey, and tea are following in the spirit of tradition and local know-how. The Idrija Selected certificate of excellency ensures that these select delicacies are of high quality and locally sourced.
Idrija Breakfast for 2 persons consists of: fruit yoghurt, plain yoghurt, cheese, minced lard,"zašink" (dried pork neck), pressed bacon, herbal tea, honey, butter, bread and seasonal fruit.
The Idrija Breakfast is designed as an additional offer for tourist accommodations, which donot serve their own breakfast. The main purpose of the product is to offer to the guests a crumb of local products and tastes and to encourage them to visit local producers in person: see their farms, stores or experiences they provide.
The tasty Idrija Breakfast can be bought in -online store or in tourist office. It is prepared by Kmetijsko gozdarska zadruga Idrija and can be picked up in their local grocery stores.
The breakfast comes with a gift: a family ticket to the Idrija UNESCO Global Geopark Visitor Centre exhibition Written in Rocks with an audio guide.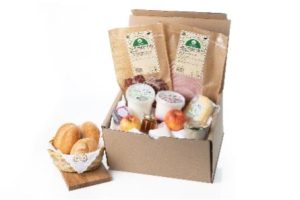 Photo 1, 
LOCAL PRODUCERS WHO'S PRODUCT ARE INCLUDED IN THE BREAKFAST NA KRNICAH FARM
Caught between pastures, meadows, and surrounding forest-covered hilltops of Idrijske Krnice, "Pr Krnčanu" farm is proud of its long tradition of farming and of its delicious dairy products. On prior booking, cheesemaker Jure will show you how he makes the Krnčan cheese, which is known far and wide, while the farm owners Janez and Agata will prepare a tasting of cheeses and other dairy products.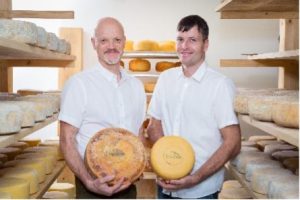 PR KENDU FARM
Pr' Kendu Farm in Idrijske Krnice supplemented its primary activity of cattle farming with the processing of milk into various delicious dairy products made by the experienced hands of Katica Prezelj and her family together with co-workers. On prior arrangement, you can visit the farm and taste their products, all of which are of verified quality.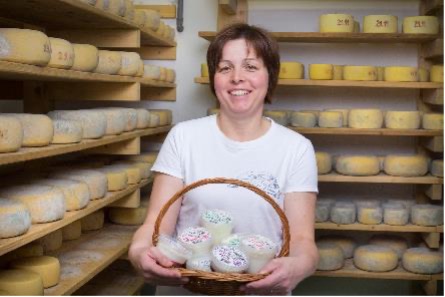 KLANČAR FARM
Anita and Marjan Pivk from Zadlog are engaged in the production of cows milk, cheese- making and dairy products. An added bonus to their products is the use of milk produced at their home, where the cows graze for as long as the weather permits.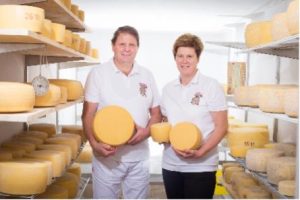 BEEKEEPING SILVIJ AND BLANKA VIDMAR
Silvij and Blanka claim that bees simply win your heart. If they started their beekeeping business due to circumstance, they cannot imagine a life without bees anymore. They are raising 28 bee colonies that collect various honeys: flower, acacia, chestnut, linden, and forest. Silvij and Blanka received multiple recognitions for their honey and are active in the Idrija Beekeeping Association.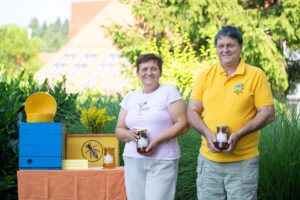 KMETIJSKO GOZDARSKA ZADRUGA IDRIJA
The Zadruga devotes special attention to the quality of goods in their stores. Their "home corners" therefore offer a rich assortment of products and produce sourced in the Idrija region. While fresh beef is of local origin with the Izbrana kakovost (Selected quality) certificate, organic beef is also on offer. The meat products of their production follow traditional procedures of meat processing and are made from highest-quality meat with local
geographical origin.
HOUSE OF HERBS – LOG LAND OF EXPERIENCE
1000 metres above sea level, Lara Lapajne Golob leads her life and her career inspired by the love of nature. She learn to Use traditional manual processes learned from her grandmothers and great-grandmothers, Lara extracts beneficial "essences" from herbs and transforms them into herbal preparations and products under her House of Herbs trademark. At the same time, her Log Land of Experience offers the visitors unique experiences for a relaxing or an actively spent day in nature.